Getting started
Request an account
If you do not have an account yet, please contact us to request one. Currently our service is not open to the public.
Once integration is complete, it's time to get started with the 360dialog mobile CRM platform. This guide will give you an introduction to the platform, help you setup your app(s) and send your first campaigns.
Review your apps
First you should quickly to review your app settings in the 360dialog dashboard:
Login into our console at https://dashboard.360dialog.com.
Your apps will have been created by our Integrations team and should be ready to go with your push certificates and authorisation tokens if these were already supplied, otherwise head to the apps section for help on this.
You can edit apps from the top left hand menu.
In the edit screen you can also find your API keys which your developers will need to integrate the mobile SDK or other data sources.
Note
For your convenience, your different app platforms (iOS, Android, and others) are managed within the same "app".
Create a push campaign
Push campaigns let you send a push message to a segment of your app users.
Login to your 360 console at https://dashboard.360dialog.com
Go to the Campaigns section and click the (+) button
Enter your campaign name and click next.
Select "Push message" as the message type (channel).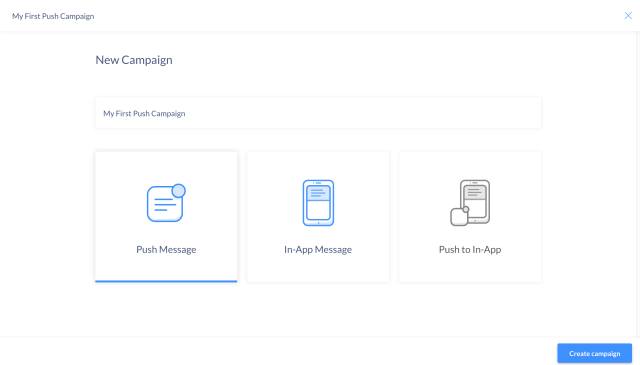 In the message editor, enter the subject and body of your message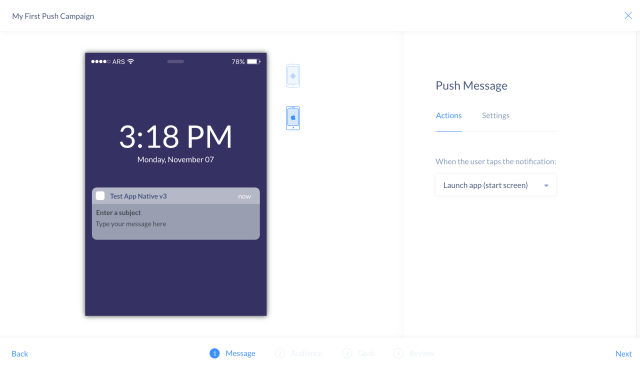 (Note: Devices running iOS version 9 or lower do not support a message subject, so the subject of your message will not appear for those users.)
Define what will happen, when the user opens the message. Choose between:

Open the app: launches the start screen of your app.
Open url: launches the device's web browser and loads the given website for http/s links or launches your app to a deeplinked page if a you use your app's deeplinking schema.

In the Other tab you can choose if you want the device to play a specific sound or set the badge number to 1 (iOS only).
Next, in the Targeting step you will define which app users you want to address.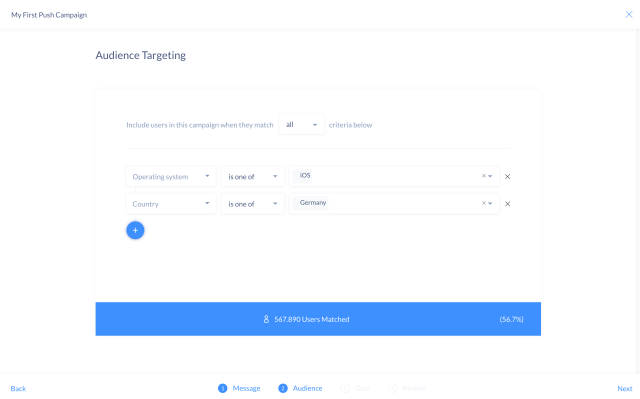 You may target user based on:
Segments: users who are part of (or not part of) an existing segment (e.g., Inactive Users)
Attributes: users who share attributes such as country, language, OS, app version and others
Events: users who have completed an event that our platform has recorded in the past (e.g. registration, abandoned cart, purchased).
To narrow down your campaign audience you can combine multiple targeting filters and use nested logic to create very fine grained audiences. - Next, enable conversion tracking and define a conversion goal for your campaign.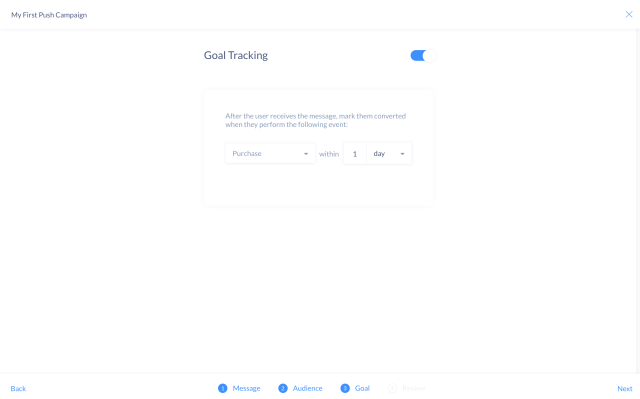 A conversion goal can be any event which you track in our platform. You can also add specific properties of the conversion event such as a purchase event where the price is over a given value or for a specific product. Which options are available to you will depend on the events being tracked in your app. The conversion window let's you define how long after the user received the message you want to consider the conversion due to this campaign.
Review your campaign settings and check carefully that everything is correct. Then proceed to schedule.
Schedule your campaign to bring it live, or save as draft if you would like to review and send it at a later stage.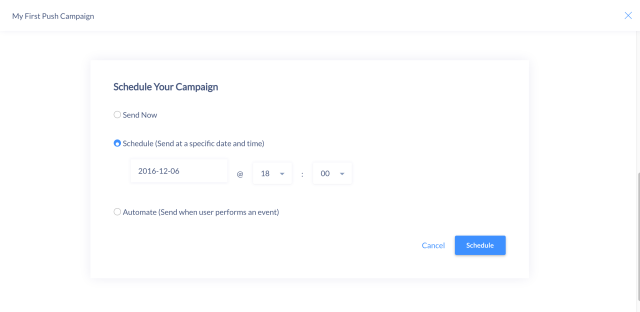 You can choose between the following options:
Broadcast: the campaign will be sent out immediately
Scheduled: Set date and time when the campaign should begin.
Automated: Send the message to a user after they have performed a certain action and optionally delay for a given number of minutes, hours or days. You can also define at which time the message will be sent in the Timing tab of the workflow item.
Best practice
Set a conversion goal so you can measure the impact of your campaign. A conversion goal can be any event which you track in the app (e.g., purchase, registration).
Create an in-app campaign
In-app campaigns let you show users a message within your app, while they are using the app.
Login to the 360dialog dashboard and head to the Campaigns sections.
Click the (+) button to create a new campaign.
Give your campaign a name and choose "In-app message" as message type (channel).
Provide the message content by entering the URL of the mobile webpage or the image you want to display to the user.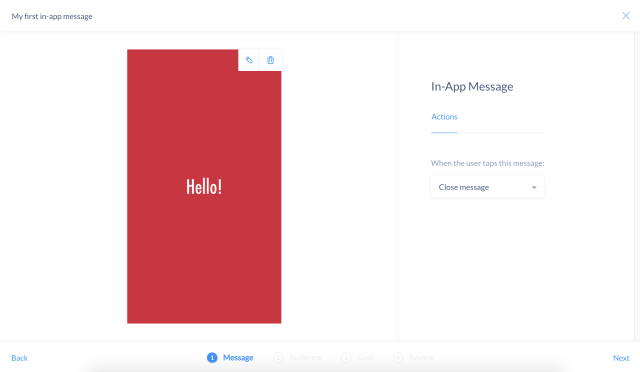 Define what will happen, when the user clicks on the message. You can choose between:

Close: the in-app message will simply close when the user clicks (anywhere).
Open url: launches the device's web browser and loads the given website or opens your app to a deeplink.

Targeting: define to whom you want to show the in-app message.
Set a conversion goal for your campaign (recommended).
Schedule when you want to send the in-app message:

Now: Send the message immediately.
Scheduled: Send the message on a scheduled time and date.
Automated: Show the message next time the user performs an event; e.g. next time they opens the app.
Note
In-app messages work best when triggered by an app event, e.g. when the user opens the app or completes a level in a game. You can still schedule an in-app message or choose send now, and then decide from the app when to actually show it. Note that caching in-app messages for later display is only supported from our SDK v3.2.0 and above.
Using segments
Segments let you share and reuse commonly used targeting criteria across multiple campaigns. For example you may want to centrally define when users are considered "inactive", "premium" or the like.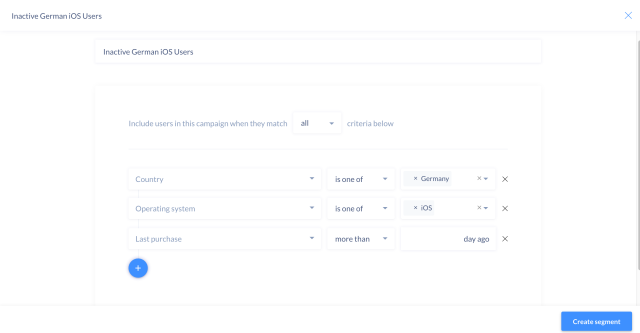 To create a new segment
Navigate to the Segments section.
Hit the add button (+).
Give your segment a name (consider following a naming convention so it is easy to search and organize segments).
To define your segment, combine as many targeting rules as you like.
After you hit Save, your segment will be available in the audience targeting section of your campaigns.
Campaign metrics
Rather than counting totals, our core campaign metrics are based on unique users.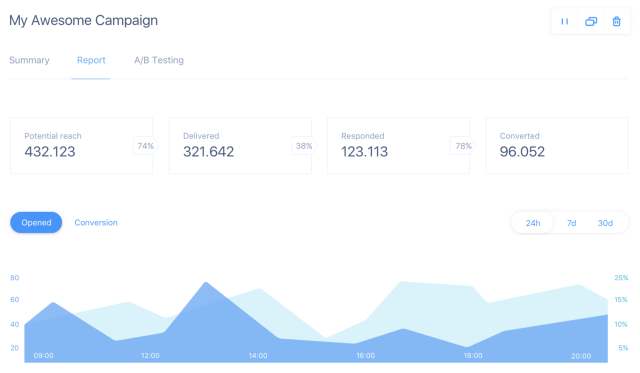 Our core campaign metrics are:
Users targeted: amount of unique users who matched the audience targeting criteria.
Users reached: amount of unique users who received the message. (Due to limitations of the APNs and FCM services, for Push messages this number reflects the amount of unique users to whom we sent the push message.)
Users responded: amount of unique users who interacted with the message. For push messages that means a user clicked the message to open the app, whereas for in-app messages it means that the user clicked on the message (did not close it).
Users converted: amount of unique users who performed the campaign's conversion event within the conversion window after receiving the first message of a campaign.